Gupta Awarded Honorary Doctorate from King Mongkut's University of Technology North Bangkok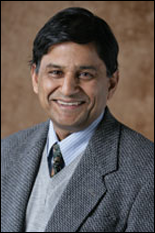 Department of Mechanical Engineering Distinguished University Professor Ashwani Gupta will be awarded an honorary doctorate in Mechanical Engineering from King Mongkut's University of Technology North Bangkok (KMUTNB) during their graduation ceremony on November 14, 2013 at Bankok International Trade & Exhibition Centre (BITEC), Bankok.
Her Royal Highness Princess Maha Chakri Sirindhorn of Thailand will be on hand to preside over the event and bestow awards. Her Royal Highness is often referred to as the "Princess of Technology" or the "Princess of Information Technology," because of her interest and expertise in applying the sciences to her country's development.
The honorary doctorate, the highest form of academic recognition offered by KMUTNB, is being presented to Gupta for his meritorious and sustained contributions to mechanical engineering and his exceptional scholarly and intellectual missions.
In the technical community, Gupta is known as "Mr. Green Flame" for his discovery of Green Flame, an environmentally benign flame that uses hydrocarbon fuel. The technology he went on to develop, known as High Temperature Air Combustion (HiTAC), reduces energy consumption and emissions while maintaining performance, and it is being used in industries worldwide.
A faculty member in the Mechanical Engineering Department since 1983, Dr. Gupta was appointed as a Distinguished University Professor in 2008. He has received numerous honors and awards for his work on combustion such as the American Institute of Aeronautics and Astronautics (AIAA) Energy Systems Award and Propellants and Combustion Award, and the American Society of Mechanical Engineers' (ASME) George Westinghouse Gold Medal, James Harry Potter Gold Medal Award, James N. Landis Medal Award, Worcester Reed Warner Medal, The Holley Medal and the ASME-AIM Percy Nicholls Award.
He has been frequently recognized with Best Paper Awards from the ASME and the AIAA over the past 25 years. Dr. Gupta served as the Director of Propulsion and Energy at AAIA and served on AIAA's Board of Directors from 2007 to 2013.
The award, the highest form of academic recognition offered by KMUTNB, recognizes Gupta for his intellectual missions and exceptional work in research to the field of mechanical engineering.
For more information on Ashwani Gupta, please visit his faculty page.
Published November 7, 2013