Students Receive Support to Attend National SHPE Conference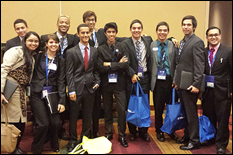 The Department of Mechanical Engineering supported three University of Maryland Society of Hispanic Professional Engineers (SHPE-UMD) chapter students to attend the 2013 National Society of Hispanic Professional Engineers Conference held October 30 to November 3 in Indianapolis, IN. The three students selected to attend were mechanical engineering (ME) seniors Diego Mayorga, Andrew Grizzle and Nick Krochta.
The National SHPE Conference is the largest Hispanic technical conference in the nation, offering a wide range of professional and educational opportunities for attendees such as competitions, corporate tours and lectures on how to apply to and succeed in graduate school. The conference also offered one on one recruiting opportunities, and most of the attending Mechanical Engineering Department students received final round interviews from companies such as Accenture, Intel, Boeing and Eaton.
Computer Engineering junior and president of the SHPE-UMD chapter Luis Catacora said, "We, SHPE-UMD, would like to thank everyone who helped our members attend the national conference this year, and we look forward to participating in the regional conference this spring semester."
SHPE-UMD was first granted a chapter in May 1988. Since then, SHPE-UMD has strived to maintain their vision of, "a world where Hispanics are highly valued and influenced as the leading innovators, scientists, mathematicians and engineers." SHPE-UMD has been awarded many prestigious awards by SHPE National, including placing in the top three at the Extreme Engineering Challenge competition at the 2010 National Conference.
For more information on the SHPE-UMD Chapter, or how to join, visit their website or check them out on Facebook and Twitter.
For more information on the 2013 National SHPE Conference, please visit their website.
Published November 7, 2013