Gupta Elected Director of Propulsion & Energy at AIAA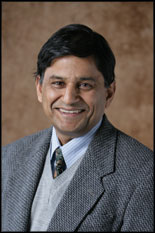 Mechanical Engineering Professor
Ashwani K. Gupta
was elected Director-Technical of the Propulsion & Energy Group of The American Institute of Aeronautics and Astronautics (
AIAA
) on April 13, 2007. Gupta is one of eleven newly elected officers in the organization whose duties begin on May 16 for a period of three years.
Gupta also serves on the AIAA Board of Directors. Previously he served as the Deputy Director of the Energy group for the past six years.
In this new position Gupta plans to work on AIAA policies that generate high quality technical papers and conferences to benefit the members and aerospace community. He also hopes to further enhance the propulsion and energy group activities, including education and public outreach activities, to benefit the members internationally.
The American Institute of Aeronautics and Astronautics (AIAA) advances the state of aerospace science, engineering, and technological leadership. Headquartered in suburban Washington, DC, the Institute serves over 35,000 members in 65 regional sections and 79 countries. AIAA membership is drawn from all levels of industry, academia, private research organizations, and government.
Published April 22, 2007