Terp Athletes Ready for Season Victories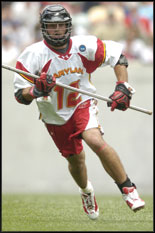 Senior defender and mechancal engineering undergrad
Ray Megill
, a two-time All-American, is pivotal to the Terps' lacrosse success this season. The The 6-foot-1, 200-pound, Clark, N.J., native is one of the top defenders in the nation. Megill had the signature game of his career this spring in Maryland's 8-7 win at Navy in double-overtime. Megill is also among 17 players on the
2007 Tewaaraton Trophy nominee list
announced by the Tewaaraton Award Foundation on April 18. Off the field Ray has been spending time working on the
University of Maryland Human Powered Submarine Project
and enjoys boating, dirt biking, snowboarding and fishing in his free time.
Mechanical engineering sophomore Adam Kareem is a second-year defensive back and a valuable member of the defensive scout team for the Terrapins football team. The DC native is interested in a career in automotive design and also exploring robotics as an academic focus.
Former Terps football quarterback Sam Hollenbach was named Maryland Player of the Year at the Annapolis Touchdown Club earlier this year. Sam threw for over 2,300 yards and 15 touchdowns in 2006, and helped lead the Terps victory against Purdue in the Champs Sports Bowl 24-7, where he was also named MVP of the game. He finished his career at Maryland with 5,139 yards, ranking him fourth all time in passing yards behind Boomer Esiason, Scott Milanovich and Scott McBrien.
Published April 22, 2007