Hendrick Receives CH2M Hill's EWB-USA Scholarship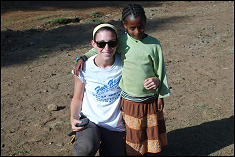 Kathi Hendrick, project leader for the Engineers Without Borders-USA UM Ethiopia Team, was recently awarded one of twelve CH2M Hill EWB-USA Scholarships in recognition of her academic excellence and contributions to the UM chapter of EWB. In addition to a $5,000 prize for academic expenses, EWB travel costs, or attendance to an EWB-USA conference, the scholarship also provides a 10-week internship opportunity with CH2M Hill.
Kathi has been involved with EWB since Fall of 2008 on the Ethiopia project. In January 2010 she traveled to Addis Alem, Ethiopia for the first time to participate in the implementation of the youth center project. She worked on the subgroup that designed the truss roof structure for the buildings. Following the completion of the project, she became the project leader for the second phase of the program and has since traveled back to Addis Alem to assess a sustainable stream crossing project. The project is scheduled to be implemented in January 2012.
Outside of EWB, Kathi is involved in the the University Honors Program and the Quality Enhancement Systems and Teams Honors Fellows Program at UMD. She is a Clark School Student Ambassador and a volunteer tutor. She will graduate in May 2012.
Published February 16, 2011