Visit of Dr. Nader Vahdati to UMD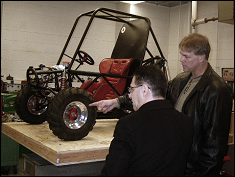 Dr. Nader Vahdati, Associate Professor and Associate Chair of the Mechanical Engineering Department at the Petroleum Institute, visited the University of Maryland, College Park January 25-28, 2011. Dr. Vahdati's visit was aimed at interacting with EERC faculty and students, engaging with faculty conducting research in his field of control and dynamics and becoming familiar with the Society of Automotive Engineering (SAE) Mini-Baja activities at UMD.
During his visit Dr. Vahdati visited Dr. Balachandran and Dr. Nikhil Chopra and their laboratories and had an extensive tour and meeting with the graduate students in both labs. He also met with a few other EERC faculty members. Unfortunately, a larger gathering for the whole EERC group to meet with Dr. Vahdati and his seminar on his research interests on Thursday, January 25, was canceled due to inclement weather and the school closing.
One important goal of Dr. Vahdati for this trip was to talk to Dr. Greg Schultz and visit the SAE Mini-Baja Lab. Dr. Vahdati will be spearheading an SAE Mini-Baja initiative at PI. Dr. Greg Schultz, who is heading the SAE efforts at UMD, gave a comprehensive presentation to Dr. Vahdati on this effort at UMD and arranged for a tour of the SAE lab. Dr. Vahdati and Dr. Schultz will be working closely to establish a similar program at PI.
The University of Maryland participates in the SAE International Student Design Series, in which UMD's SAE chapter (known as Terps Racing) designs, fabricates, and competes a recreational off-road vehicle each year to enhance their engineering education. The Petroleum Institute intends to create a similar student program, and the University of Maryland's Department of Mechanical Engineering plans to transfer the 2007-built vehicle to the PI to foster their new program.
Published February 15, 2011