Herrmann Publishes New Book, Engineering Decision Making and Risk Management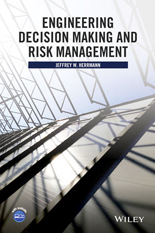 Mechanical Engineering Associate Professor Jeffrey Herrmann has authored a new book, Engineering Decision Making and Risk Management. Engineering Decision Making and Risk Management emphasizes practical issues and examples of decision making with applications in engineering design and management. Published by Wiley, the book was released April 2015.
According to the book's description, Engineering Decision Making and Risk Management "uniquely presents and discusses three perspectives on decision making: problem solving, the decision-making process and decision-making systems. The author highlights formal techniques for group decision making and game theory and includes numerical examples to compare and contrast different quantitative techniques. The importance of initially selecting the most appropriate decision-making process is emphasized through practical examples and applications that illustrate a variety of useful processes."
The book also features theoretically sound and practical tools and examples for decision making under uncertainty from the perspective of both historical and current events.
Herrmann holds a joint appointment with the Department of Mechanical Engineering and the Institute for Systems Research. He is also the Academic Director of the QUEST Honors Program. Herrmann's research interests include engineering design decision making, production scheduling, health care operations research and public health emergency preparedness planning. He is a member of the Institute of Industrial Engineers, the Institute for Operations Research and the Management Sciences, the American Society of Mechanical Engineers and the American Society for Engineering Education.
Herrmann received his Ph.D. degree from the University of Florida in 1993.
For more information on Herrmann, please visit his faculty webpage.
Published April 8, 2015