Herrmann Promoted to Professor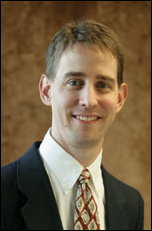 Department of Mechanical Engineering Associate Professor Jeffrey Herrmann has been promoted to the rank of Professor.
Herrmann holds a joint appointment with both Department of Mechanical Engineering and the Institute for Systems Research, and he is an Academic Director for the QUEST Honors Program. His research interests include engineering design decision making, production scheduling, health care operations research and public health emergency preparedness planning.
"Jeffrey is a well-respected faculty member of the Department, whose accomplishments have already had a noticeable impact on the application of operations research to engineering decision-making systems, manufacturing, and public health preparedness," said Balakumar Balachandran, Department Chair and Minta Martin Professor of Mechanical Engineering. "These accomplishments have placed him on a path for continued international leadership in the broad areas of operations research and decision analysis. His choice of research topics related to real world problems has allowed him to forge activities with high societal impact."
Most recently, Herrmann authored a new book, Engineering Decision Making and Risk Management, which emphasizes practical issues and examples of decision making with applications in engineering design and management. Wiley published the book in April 2015.
Herrmann is a member of the Institute of Industrial Engineers, the Institute for Operations Research and the Management Sciences, the American Society of Mechanical Engineers and the American Society for Engineering Education. He is the recipient of numerous honors and recognitions, including the 2003 Society of Manufacturing Engineers Jiri Tlusty Outstanding Young Manufacturing Engineer Award, the 2009 Institute of Environmental Sciences and Technology (IEST) Maurice Simpson Technical Editors Award for his 2008 Journal of the IEST paper and was named 2013 Society for Health Systems Diplomat.
Herrmann's new faculty position will be effective starting July 1, 2015.
Published April 21, 2015