Kusimo to Deliver Student Speech for Clark School Spring Commencement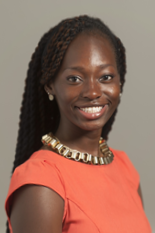 Mechanical Engineering student Abisola Kusimo will be the student speaker for the Clark School spring commencement ceremony held Friday, May 22 at the University of Maryland Xfinity Center.
Born and raised in New Jersey, Kusimo is the daughter of two parents who emigrated from Nigeria. The name "Abisola" translates to "born into wealth," and she has been successfully exposing herself to a wealth of opportunities during her time at the University of Maryland (UMD).
Kusimo has successfully pursued three minors in Engineering Leadership Development, Technology Entrepreneurship and Rhetoric Communication, interned two summers with Sikorsky Aircraft Corporation as an Airframe Design Engineer and led over one hundred students as a three-year South Campus Resident Assistant.
She has studied abroad and participated in several alternative break and community service learning opportunities that enabled her to travel to Dubai, Abu Dhabi, Qatar, Haiti, France, Spain, The Bahamas and Nigeria. She was the founder, curator and president of the TEDxUMaryland Club that brought together 16 speakers from all over the world to share their "Fearless Ideas."
In 2014, Kusimo received the Spirit of Maryland Award, a prize granted to the top male and female senior at UMD exemplifying scholastic achievements, leadership and communication. She has been involved in campus leadership and academic activities including: Hinman CEOs, Ronald E. McNair Post-Baccalaureate Program, College Park Scholars in International Studies, student keynote speaker for FreshCon 2014, Clark School Ambassadors, Pi Tau Sigma (the Mechanical Engineering Honors Society), Louis Stokes Alliance for Minority Participation in STEM programs, and Regional Executive Board Member of the National Society of Black Engineers.
In addition, a four-year Women in Engineering Research Fellowship enabled her to publish in the peer-reviewed Biomicrofluidics Journal with Dr. Miao Yu in 2014 and in the 2012 ASME IMECE Conference Proceedings with Dr. Peter Sandborn. Most recently, Kusimo was selected into the University Medallion Society, an honor bestowed onto the top 20 male and female graduating seniors.
Not only has she been successful academically, but Kusimo is an accomplished competitive spoken word artist and has performed at American University, Howard Theatre, and Wooly Mammoth Stage as well as competed on the national level.
After graduation from Maryland, she will embark on the next chapter of her academic journey at Stanford University to pursue her Ph.D. in Mechanical Engineering with a focus on Design for Extreme Affordability.
Published May 19, 2015