Baz Recognized with Two Awards for Teaching Excellence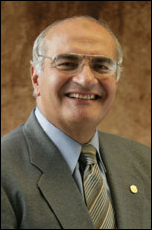 Department of Mechanical Engineering Minta Martin Professor Amr Baz has been recognized for his excellence in teaching by the both the University of Maryland (UMD) and the A. James Clark School of Engineering by awarding him a 2015-2016 Distinguished Scholar-Teacher Award and the Poole and Kent Teaching Award for Senior Faculty.
The Distinguished Scholar Teacher Award honors senior faculty who, as men and women of outstanding scholarly accomplishment, combined with excellence in teaching, personify the image of the professorate. The nominee must have been a current member of the University of Maryland faculty for a minimum of five years and hold the rank of tenured professor.
The Poole and Kent Award for Senior Faculty recognizes excellence in teaching. According to the nomination, Baz's teaching is distinguished by his effective approach to integrating leading edge research results into traditional course material. He also uses extensive visualization techniques to communicate content and fully utilizes web-based course support both for on-campus and distance offerings. In addition, Baz uses his research laboratories to develop examples for demonstrating fundamental concepts discussed in his undergraduate and graduate courses.
Undergraduate students consistently rank him very high for course content, clarity of instructions, and his dedication to student learning both inside and outside the classroom. His mentorship has been a key factor in both undergraduate and graduate career planning and achievements.
The Poole and Kent Award for Senior Faculty will be given during the spring engineering commencement ceremony held May 22.
Baz received his Ph.D. from the University of Wisconsin, Madison in 1973. His research interests include active and passive control of vibration and noise, active constrained layer damping, magnetic composites, virtual reality design of smart structures and active acoustic metamaterials. Baz is also the Director of the Smart Materials and Structures Research Center.
Published May 19, 2015