Lyles to Speak at Commencement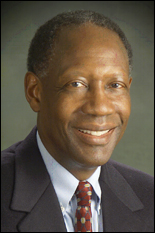 Retired U.S. Air Force Gen. Lester L. Lyles will be the commencement speaker at the Clark School's
commencement ceremony
on December 20 at 4 p.m. in the Cole Activities Building.
Gen. Lyles served as vice commander and then commander of Ogden Air Logistics Center at Hill Air Force Base in Utah before he was assigned to command the Space and Missile Systems Center at Los Angeles Air Force Base. He also served as director of the Ballistic Missile Defense Organization and vice chief of staff of the U.S. Air Force. In 2000, he became commander of the Air Force Materiel Command, Wright-Patterson Air Force Base, Ohio. He retired in October 2003.
The student speaker will be Heather Bradshaw, a mechanical engineering major.
The Clark School will announce the winners of the E. Robert Kent Outstanding Teaching Award for Junior Faculty and the Staff Service Award during the ceremony.
James F. Pitts, corporate vice president and president, Northrop Grumman Corporation's Electronic Systems, will be the speaker at the university's main commencement ceremony on December 19 at 7 p.m. in the Comcast Center.
Published December 7, 2009