ME Senior Lands Her First "Real" Job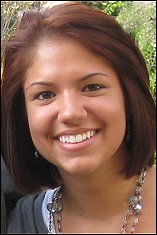 "I cannot wait to begin my new job!"
Mechanical engineering senior Jasmine Whittaker is excited for the next stage of her life. Two months into her senior year, Whittaker accepted a full-time engineering position with a renowned management-consulting firm. "I am so excited," gushes Whittaker, "I cannot wait to begin my new job!"
Hired as an entry-level analyst in the technology sector, Whittaker believes she was successful at landing this position due to her superior communication skills, as well as her obvious enjoyment of the math and sciences. "Consulting has a lot to do with the exchange of ideas...which is one of my strengths," says Whittaker. Additionally, Whittaker believes her success is also due to a Women in Engineering (WIE) networking event she was selected to attend last January. She says that attending this event was integral in showing her interest in the company, as she recalls, "I was able to talk to the HR representatives from the company and personally give them my resume."
With her new job located in the Reston, Virginia area, Whittaker has begun the process of looking for a place to live. The excitement of her new future has made Whittaker's 'Senioritis' flare up though. "It is much harder to do homework now that I know I have a set job," Whittaker reveals. "I am still putting in the time to study and do my work, but my thoughts just continually stray to graduation."
Beginning at the University of Maryland as a freshman architecture major, Whittaker soon realized that it was not what she wanted to do. "I came to realize that I was not passionate about architecture. I just couldn't see myself doing it as an adult," says Whittaker. The decision to switch to ME was a fairly easy one for her though, as she remembers, "I went to talk with Dr. Ainane and he convinced me that mechanical engineering was a great major for those who enjoy and excel at math and science."
"My favorite class to date has definitely been Thermodynamics, which I took with Dr. Ainane," says Whittaker. "I also enjoyed Electronics I and all my math classes." Finishing out her last semester, Whittaker plans on taking 15 credits, including the Senior Capstone Course, ENME472. Her advice to incoming ME freshman is, "definitely try and get an internship if possible, it really helps to improve the strength of your resume and it gives you good engineering experience." Whittaker had an internship with a materials manufacturing firm the summer before her junior year, which she got through a networking event she attended sponsored by the Center for Minorities in Science and Engineering (CMSE) and the University of Maryland Chapter of the National Society of Black Engineers (BES).
In addition to ME, Whittaker has also been very involved with many extra-curricular activities. She is in the University Honors program and taught HONR100 sections her sophomore and junior years. She is also involved with the Clark School Ambassadors Program as well as mentoring freshman females in the Women in Engineering (WIE) First Year Peer Mentoring program. During her junior year, Whittaker joined the professional engineering sorority, Alpha Omega Epsilon (AOE).
Reminiscing about her time at UMD, Whittaker is definite about what she will miss the most. "I have made some wonderful friends since being here, especially in ME. I plan to stay in touch with everyone, even though the next few years will be so hectic!" Whittaker adds, "Post-graduation, I plan on being an active alum and coming back for the football games. Go Terps!"
Published December 7, 2009