ME Alum Energizes Local 4-H Robotics Team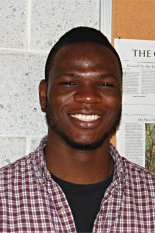 The students at the Clark School's Department of Mechanical Engineering are dedicated to building the future. To ME students, the future is more than just state-of-the-art technology and innovative solutions to everyday problems. It is the next generation of engineering students and their dreams of building the tools and technologies that will move the world forward.
ME students are helping to prepare future generations to pursue education and careers in engineering by reaching out to communities beyond the University of Maryland's College Park campus. ME Alumnus Justin Pearse (B.S., '10) recently offered some local elementary and middle school students a peek at the life of a ME student. Pearse shared his experiences as a student in the Clark School's ME undergraduate program with members of the Prince George's County 4-H Robotic Team, Lego Pros, at a presentation sponsored by the University of Maryland's 4-H Youth Development Program. The 4-H Youth Development Program is an educational outreach program offered by the University of Maryland Cooperative Extension for Prince George's County that fosters leadership, skill-learning and co-operative attitudes through community service and fundraising projects.
Pearse provided his audience with an overview of UMD's Mechanical Engineering program and discussed his motivations for pursuing an education and career in engineering. Using himself as an example, he painted a picture of the ME student experience, from describing what ME students and professional mechanical engineers build to outlining the plethora of career options associated with the field. Pearse also made a point to encourage the students to challenge themselves by taking more science and math classes, joining engineering-based extracurricular activities and working diligently to improve their grades.
After presenting a collection of images from Maryland Day 2011—including shots of bio-inspired robots built by ME undergraduates—Pearse gave the students an exclusive look at his Master's thesis research into soft, bending actuators based on Dielectric Elastomer Actuator (DEA) technology. Pearse concluded by taking questions from both the students, and their parents, who actually asked more questions than the students. He was genuinely enthused and humbled at the response to his presentation, stating, "[The 4-H members] appeared quite entertained, and [their parents] seemed to see the potential futures of their children in me."
Pearse is currently pursuing his Master of Science in Mechanical Engineering at the University of Maryland.
For more information on the ME undergraduate program, please contact Fitzgerald Walker at fwalker@umd.edu. For more information on the ME graduate program, please contact Amarildo DaMata at amata@umd.edu.
Published July 7, 2011