Peter Sandborn Named Associate ME Chair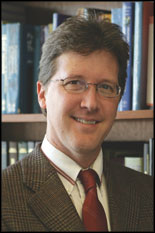 Professor
Peter Sandborn
has agreed to serve as the next Associate Chair of the Department of Mechanical Engineering for a three year term, effective July 1, 2011.
Sandborn joined the Department in July 1998. He is currently a Keystone Professor and holds a seat on the ME Graduate Committee and the Appointments, Promotion, and Tenure Committee of the Department. Sandborn previously served as Leader of the ME Electronic Products and Systems Division and on the ME Undergraduate Committee. Prior to joining the ME faculty, Sandborn was a senior member of technical staff at MCC, a founder and the chief technical officer of Savantage, Inc.
Sandborn's research group develops life cycle cost models and business case support for long field life systems. This work includes: obsolescence forecasting algorithms, strategic design refresh planning, lifetime buy quantity optimization, and return on investment models for maintenance planning (including the application of PHM to systems). Sandborn is the developer of the MOCA refresh planning tool, which has been used by private and government organizations worldwide to perform optimized refresh planning for systems subject to technology obsolescence.
Sandborn has authored over 150 technical publications and several books on electronic packaging and electronic systems cost analysis. He is an Associate Editor of the IEEE Transactions on Components, Packaging, and Manufacturing Technology, a member of the editorial board of the International Journal of Performability Engineering, and on the Board of Directors of the International PHM Society. Sandborn has also received a number of honors and awards for his research and instructional achievements, including the 2009 Poole and Kent Teaching Award for Senior Faculty, the 2006 Engineering Economist Journal Best Paper Award, the 2004 SOLE Proceedings Best Paper Award, and the 2011 Best Paper Award at the IEEE Prognostics and Health Management Conference. In 2010, he was a Visiting Fellow of the Royal Academy of Engineering.
In 1982, Sandborn received a B.S. degree in engineering physics from the University of Colorado, Boulder. He earned his M.S. degree in electrical science and his Ph.D. degree in electrical engineering from the University of Michigan, Ann Arbor, in 1983 and 1987, respectively.
The Department of Mechanical Engineering welcomes Professor Sandborn as the new Associate Chair.
Published July 7, 2011