ME Alumna Receives Inaugural UMD Alumni Volunteer Award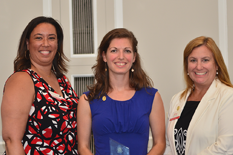 The University of Maryland (UMD) Alumni Association awarded Mechanical Engineering Alumna Liz Goldwasser (B.S., '03) the Alumni Volunteer Award as part of their inaugural Volunteer Leadership Awards presented June 13, 2015. Winners were nominated by their peers and selected in recognition of their commitment and service to the University of Maryland.
Goldwasser joined the Engineering Alumni Network board in 2005 and has had many accomplishments in her 10 years of service. She has championed student programming, taking a leadership role in the development of the Clark School Alumni Cup Competition and Order of the Engineer Ceremony.
The Alumni Association congratulates awardees and thanks them for their service to the University of Maryland.
Most recently, she helped organize the first-ever Engineering Terp Service Month projects, including their marquee event with the Baltimore Community ToolBank. She has also made significant changes to the operations of the Engineering Alumni Network by revising bylaws, updating their strategic plan and spearheading the creation of the Alumni Network Leadership Scholarship endowment.
The Alumni Volunteer Award honors the outstanding service and leadership of Network volunteers who have consistently gone above and beyond the call of duty.
Nicole Pollard, president of the UMD Alumni Association, presented the awards with executive director Amy Eichhorst.
Published June 23, 2015