Pecht Wins Distinguished Scientist of 2015 Award from the Chinese Academy of Sciences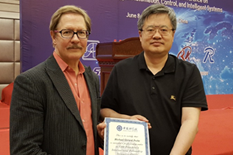 Professor Michael Pecht received the Distinguished Scientist of 2015 award from the Chinese Academy of Sciences (CAS) President's International Fellowship Initiative (PIFI) on June 11, 2015. Professor Haibin Yu, Director of the Shenyang Institute of Automation (SIA), presented the award.
Pecht was invited to lecture at SIA as a Distinguished Scientist of 2015 under the CAS PIFI. At SIA, Pecht gave two presentations' one on sensor development, prognostics and data analytics, and second on how these activities of excellence in the University of Maryland's Center for Advanced Lifecycle Engineering (CALCE) are used in the Internet of Things. He discussed potential collaboration on these topics and had tours of the facilities and of two companies that manufacture products resulting from SIA research.
SIA was founded in November 1958 and is home to 10 national and provincial key laboratories and engineering centers. One of SIA's major achievements is the successful experimental deployment of Qianlong-1, an unmanned autonomous underwater vehicle jointly developed by SIA and several other institutes, in the Pacific Ocean in October 2013.
On June 2, the University of Maryland (UMD) signed a memorandum of understanding (MOU) with CAS to encourage joint research activities, student exchanges, and other related mutually beneficial activities. CAS is composed of 104 research institutes, two universities, 12 academies, and over 100 key national labs.
UMD and CAS have a long history of collaboration, dating back to 1980 when UMD signed its first agreement with CAS' University of Science and Technology of China.
Published June 18, 2015