ME Alumnus Receives Prestigious ASME Award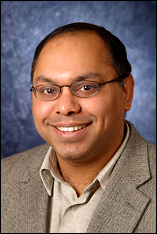 Dr. Pradeep Sharma, a Clark School mechanical engineering graduate (Ph.D., 2000), has been selected as the recipient of the "2009 Thomas J.R. Hughes Young Investigator Award" by the
American Society of Mechanical Engineers
(ASME). Sharma is an Associate Professor of Mechanical Engineering at the University of Houston.
The annual award was created by the Applied Mechanics Division of ASME in 1998, and recognizes special achievements in Applied Mechanics for researchers under the age of 40. In 2007, the award was enhanced with a substantial endowment and in 2008 was renamed from the "Special Achievement Award for Young Investigators in Applied Mechanics" to its current title.
The award will be presented to Dr. Sharma at the Applied Mechanics Division banquet (tentatively scheduled for Tuesday, November 17, 2009) as part of the ASME Congress during November 2009, to be held in Lake Buena Vista, Florida.
Pradeep received his Ph.D. under the advisement of Professor Abhijit Dasgupta with a thesis entitled, "Micro-Structural Modeling of Cyclic Creep Damage in Tin-Lead Eutectic Solder" and he was funded by the CALCE center. His current areas of focus are: nanoelectronics and nanostructures; quantum dots; self-assembly; composites; and multifunctional materials.
Dr. Sharma's honors and awards include the Young Investigators Award from Office of Naval Research and the Texas Space Grants Consortium New Investigators Program Award. He is a member of the editorial board of the Journal of Computational and Theoretical Nanoscience.
To visit Dr. Sharma's hompage, please click here.
--Lauren Frye '10, Mechanical Engineering Student Reporter
Published February 4, 2009