ME Grad Student Receives Fellowship Award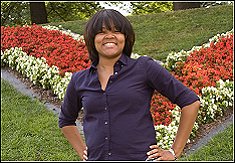 "Grateful! Excited! Honored!"
Mechanical engineering Ph.D. candidate, Sophoria Westmoreland, has recently been awarded the Alfred P. Sloan Foundation Minority Ph.D. Program Fellowship sponsored by the
National Action Council for Minorities in Engineering
(NACME). Westmoreland was selected as the honoree in mid-February 2009. The award of $26,000 will aid Westmoreland in attending the National Society of Black Engineers Conference in March, the American Society for Engineering Education (ASEE) conference in June, and the American Society of Mechanical Engineers (ASME) conference in August this year. On receiving the award Westmoreland says she is, "Grateful! Excited! Honored! This award will allow some much needed flexibility in my work/school balance."
According to their website, NACME's mission is to assist economically disadvantaged students in completing their college educations and in entering engineering and scientific careers. Since establishing the award in 1995, the Alfred P. Sloan Foundation Ph.D. Program Fellowship has been offering substantial scholarship support to minority students in the fields of engineering, natural science, and mathematics. To date, the award has helped approximately 900 minority Ph.D. students.
After receiving her B.S. in Mechanical Engineering from Georgia Tech in May 2003, Westmoreland taught an 8th Grade Engineering Design Course at Grantham Academy for Engineering in Houston, Texas for 3 years and then enrolled at UMD as a Ph.D. student in Fall 2007. Westmoreland's Ph.D. research focuses on looking for insights into engineering designers' activities during the stages of design in order to provide a framework for curriculum improvements in engineering education. She is also researching the cognitive activities of engineering design students in the Capstone Courses. Westmoreland is a member of ASME, ASEE, and the Black Engineers Society (BES). She also won the Bridge to the Doctorate National Science Foundation Fellowship in the 2007-2008 school term. After completion of her Ph.D. studies, Westmoreland plans to pursue a career as a professor in mechanical engineering at an institution of higher learning in the United States.
For more information about the Alfred P. Sloan Foundation Graduate Scholarship Programs please visit http://www.nacme.org/sloan/.
--Lauren Frye '10, Mechanical Engineering Student Reporter
Published March 26, 2009