ME Professor Re-Elected to American Institute of Aeronautics and Astronautics Board of Directors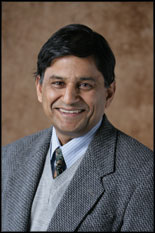 Following a recent election,
Ashwani Gupta
, Distinguished University Professor, has been re-appointed to the
American Institute of Aeronautics and Astronautics (AIAA)
Board of Directors as the Director of Technical Propulsion and Energy Group. After serving this position for the past three years, Gupta will officially begin his second term of office May 13, 2010.
Gupta's position as Director of Technical Propulsion and Energy Group requires overseeing all the technical activities in Propulsion and Power at AIAA, including fostering the development of the 12 Technical committees in the Propulsion and Energy (P&E) Group. Gupta will also be in charge of all the conferences and short courses offered by the P&E group, as well as the responsibility for obtaining current knowledge on propulsion, power, energy, and environmental issues. Additionally, Gupta is responsible for aiding in the development of position papers, used by the U.S. Senate and House of Representatives to set national priorities and future directions in the aerospace industry.
In addition to his research on areas of energy conversion, fuel conversion efficiency, environmental pollution, production of new alternative fuels, fuel reforming, waste to clean fuels conversion, propulsion and power, Gupta is also working on the development of new fuels for clean and efficient combustion for powering the existing and new advanced propulsion and power systems.
For more information about Professor Gupta and his research, please visit his faculty profile.
Published April 21, 2010