ME Student Awarded the 2009 University Medal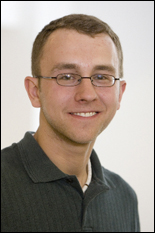 "I bring my experiences abroad back…to create a ripple effect of awareness and action."
The University of Maryland named mechanical engineering senior Phillip Hannam the 2009 University Medalist during the spring Commencement ceremony held on May 21st. The award is given to the most outstanding graduate of each academic year and recognizes the senior who best personifies academic distinction, extraordinary character, and extracurricular contributions to the University and the larger public.
Hannam's receipt of the 2009 University Medal is the culmination of an outstanding academic career here at the University of Maryland. According to President Mote, Hannam was nominated because of his, "outstanding academic record and his ability to move seamlessly between academic activities and initiatives that demonstrate his unwavering commitment to serving the needs of others."
Hannam, an award-winning undergraduate--having received a Truman Scholarship during his junior year--has been involved in Engineers Without Borders since his freshman year and is a member of the Gemstone Program. This past April, he was awarded the A. James Clark School of Engineering's International Service Award for his significant involvement in international engineering activities. The Laurel, Md. native is committed to local and global conservation efforts and has participated in various study abroad and volunteer programs in Brazil, Africa, China, Vietnam and Germany.
"My goals of creating a sustainable world do not stop on the fields of West Africa or on the coasts of South America," Hannam says. "I bring my experiences abroad back…to create a ripple effect of awareness and action."
Hannam's options for the coming year are still open. He may continue at Maryland and complete a master's degree with a specialization in energy and policy. But he hopes to win a Chinese government scholarship that will take him there for three years, where he could earn a master's in energy and resources, and master in Mandarin as well.
"Phillip is one of the most academically talented and globally aware students we've had in the department," notes Dr. Sami Ainane, ME director of student services. "He embodies excellence and willingness to make a difference in the world."
As the recipient of this year's University Medal, Hannam was a member of the platform party on Commencement Day and received a gold medal and monetary prize from President Mote on behalf of the university.
Published May 22, 2009