ME Welcomes the Return of Mike Ohadi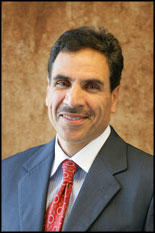 "This has been an excellent opportunity for UMD to enter the fast growing educational and research market in the Middle East."
The Department of Mechanical Engineering welcomes Professor
Michael Ohadi
back to the UMD campus after his eight years of service at the
Petroleum Institute
(PI) in Abu Dhabi, UAE. Ohadi recently stepped down from his position as Provost and Acting President of the institution, where he was closely involved with student activities, residence hall oversight, academic programming, athletics and extracurricular activities development, and commencement ceremonies. Prior to becoming Provost and Acting President, Ohadi served as the Chair of PI's Department of Mechanical Engineering.
Ohadi was initially invited to take an administrative position at PI, and, after an initial visit, he recognized an opportunity to impact the growth of the institute. During his time at PI, Ohadi helped foster a relationship between the University of Maryland and the up-and-coming institution. His work was vital to establishing tangible connections between the energy sector of the Middle East and UMD. Ohadi states, "I worked closely with the University there to establish confidence in what UMD can do for them." Ohadi was also responsible for establishing a multi-phase collaboration between the Petroleum Institute and UMD, with the initial phase lasting for a two-year period then followed by a "three-year Phase II project."
Phase I has already concluded and Phase II is underway. Ohadi adds, "This has been an excellent opportunity for UMD to enter the fast-growing educational and research market in the Middle East. I want to take this opportunity to thank both the governing board of the Institute for their trust in what UMD could offer to the PI, as well as the leadership of College Park, particularly former President Mote and Provost Farvardin, for their keen support in making this relationship happen."
Through this experience, Ohadi learned an important lesson about the growing necessity of international collaboration. In light of increasing globalization and evolving technology, he noted that international collaborations in research, education, and special programs are "a must" for academic institutions aspiring to be "leaders in the field."
Comparing PI and UMD, Ohadi asserts, "In general, PI's curriculum is based on an American system of education and the language of instruction for all courses is English, thus…there is not much difference between the two programs." While this is especially true for undergraduate programs in engineering, he remarked that graduate studies and research programs are better established at UMD due to our graduate program's lengthy existence and the superior research infrastructure supporting American universities.
The ongoing teaching and educational activities between PI and UMD, including joint research projects between both institutions, will provide Ohadi with an opportunity to periodically visit Abu Dhabi. When asked about what he will miss most, Ohadi replied, "A fast-growing, dynamic environment with dedicated resources and strong support from the country's leadership behind it. On the non-academic side, I'll also miss the fresh, and affordable first-class seafood, fresh fruits, and fresh vegetables, as well as the…Middle Eastern hospitality."
Upon returning to the U.S., Ohadi plans to use his experience in Abu Dhabi to help expand current international collaborations. Additionally, he plans to foster new national and international relationships in the energy industry. Ohadi will also teach undergraduate and graduate courses in Energy Production and Management Systems. Outside of UMD, Ohadi looks forward to spending more time with his family.
The PI was founded in 2001, aiming to produce leaders in their prospective fields from Abu Dhabi, the UAE, and abroad. Since that time, the Institute has grown to serve nearly 1,100 students, with almost 380 faculty and staff members. PI offers both undergraduate and graduate programs accredited by the UAE's Ministry of Higher Education. The Institute has received direct sponsorship from the Abu Dhabi National Oil Company (ADNOC), as well as its international partner energy companies, namely British Petroleum (BP), Japanese Oil Development Company (JODC), Shell, and Total.
For more information about Professor Ohadi and his research, please visit his faculty page.
Published October 6, 2010