Sami Ainane's Visit to UMD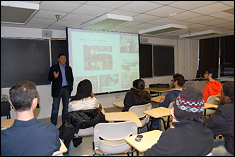 Dr. Sami Ainane, on assignment from UMD to the Petroleum Institute (PI), visited his home campus on March 18, 2011 to promote the first study abroad program at PI in Abu Dhabi this summer. Engineering classes are offered at PI in Chemical Engineering, Electrical Engineering, Materials Science, and Mechanical Engineering and courses will be taught in English. This program offers an exciting opportunity for UMD undergraduate and graduate students to experience a different culture and collaborate with their international counterparts.
The information session was well attended and many questions from students about the program and the overall life and culture in Abu Dhabi were answered by Dr. Ainane.
Published April 20, 2011