Mechanical Engineering Design Day Spring 2014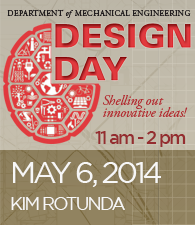 The Department of Mechanical Engineering Spring Design Day held May 6, 2014 from 11 a.m. to 2 p.m. in the Kim Engineering Building Rotunda. Design Day highlighted the talents and creativity of mechanical engineering students in the Integrated Product and Process Development Course. Teams of seniors presented project prototypes built to solve selected engineering problems, with the top voted team receiving the "People's Choice Award." People's Choice winners will have their names displayed in the Mechanical Engineering undergraduate office.
Design Day showcased 27 teams, all featuring original designs. The wide range of exhibits included everything from a ladder extender to market identification for small nuclear reactors. Terps Racing, which has consistently placed in the top ten of Formula SAE World Rankings, was also on-hand to showcase their newest model Formula SAE car, the TR-14.
Design Day was sponsored by Bell Helicopter who provided a Texas-style BBQ food truck, and a recruiter booth where students could learn about future career opportunities.
238 votes were cast for the "People's Choice Award," and the top five winners were:
FIRST Place: Testudo Trainers – The Spot Buddy
The Spot Buddy is an automatic weight lifting spotting machine that senses a user's distress during an exercise.
Corey Bloom, Will DeMore, Luke Hendrix, Kick Krochta, Yale Sosin, Vincenzo Vernaccio
SECOND Place: BabySavers – Child Car Seat Safety Alert System
A portable pad placed on a child seat that notifies the user to remember the child or if temperature conditions become unsafe.
Kevin Holmes, Trevor Niefrenforf, Kayla Park-Brouse, Tyler Schirf, Justin Turner, with special guest Vince the Koala
THIRD Place: RASFire – RAS Pellets
Recycled Asphalt Shingles (RAS), re-purposed for fuel needs.
Ian Bacon, Evan Cain, Alejandro Moreno, Iman Niknejad, Austin Sichling, Michael Xue
FOURTH Place: Screwdriver Modernizers – Double-Shaft Screwdriver
A screwdriver with a planetary gear system that increases rotational speed of one shaft and torque of the other shaft.
Xiang Zhang, Syed Samiul Elahi, Han Chen, Kendrick Daly, Cesar Atahua, Taiwo Agbebkun
FIFTH Place (Tie): Tidy Fingers – Scoop 'n' Spread
The Scoop 'n' Spread eliminates the messy nature of retrieving the small remaining contents of a jar.
Richard Henry, Danielle Khoo, Maximilian Kinsey, Alan Parvis, Akash Patel
FIFTH Place (Tie):Fans R Cool—The Eco Fan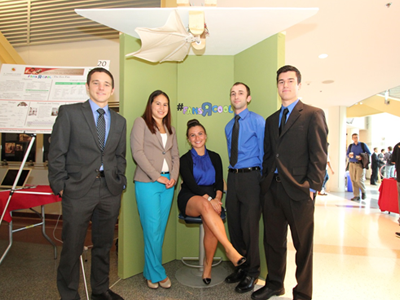 Bio-inspired, loft wing design that sustainably creates a natural cooling breeze.
Thomas Delmont, Olivia Desser, Michael Garrison, Amanda Heyes, Ellen Kauffman, Joseph Steele
Published May 21, 2014