Mechanical Engineering Doctorate Students Win Summer Research Fellowships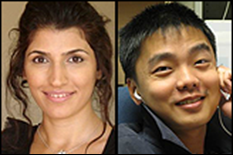 Doctorate students Zohreh Ghorbani and Shuze Zhu were awarded Graduate Student Summer Research Fellowships for summer 2013. Both students will receive a $5,000 stipend to help them devote this summer to prepare or complete a benchmark in their program's requirements.
"The fellowship allows me to focus the whole summer on the research ideas that I am very interested in," Zhu said. "It will help me significantly advance forward in my Ph.D. studies." Zhu plans to work on the development of a coarse grained model of graphene this summer. This will support his research on the mechanics of low-dimensional carbon materials such as graphene, carbon nanotubes and carbon nanoscrolls.
Ghorbani's research focuses on numerical modeling of flame spread over combustible solids such as plastics and wood. She has already completed the first phase of this research — developing a general pyrolysis model based on a semi-empirical approach – and will use this summer for researching how to couple the solid and gas phase solvers by establishing a quantitative understanding of an adequate coupling strategy at the interface between the solid and gas phases.
For more information about graduate fellowships, including how to apply, visit the Graduate School's website.
Published May 20, 2013