Giving Spotlight: Alex Mehr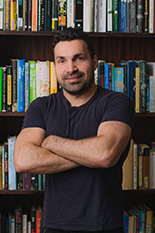 Alumnus Alex Mehr (M.S., Ph.D. '03) knows the value of an exceptional education. An Iranian immigrant, Alex migrated to the United States in pursuit of the educational opportunities that UMD offered. Those experiences laid the groundwork for Alex's future endeavors, including those beyond the typical engineering career path. Previously a NASA engineer, Alex's attention is now focused on saving well-known retail brands through what he calls "creative reinvention." Already, he has acquired DressBarn, Pier 1 Imports, and RadioShack. Alex credits the University for providing him the tools and knowledge leading to his success, and is paying it forward by supporting graduate students and research in mechanical engineering design.
Alex began his entrepreneurial career by co-founding Zoosk, an online dating app, in 2007. When the company was bought by Spark (which also owns niche dating sites such as Christian Mingle and Jdate) in 2019, Alex decided to try a different tactic. He turned to what he calls "creative reinvention;" that is, saving existing retail companies from disappearing by reinventing their business model. He does this by building each brand's online presence. Since 2019, Alex and his business partner Shayan Zadeh (M.S. computer science, '02) have acquired over 30 well-known products and companies through their company Retail E-Commerce Ventures.
The companies that Alex and his team at Retail Ecommerce Ventures revitalize are those they believe mean the most to people. "If nobody does anything over the next 10 years, a lot of iconic brands that we grew up with — and which took decades to get into the psyche of everyone and were part of our lives — will not be there for our grandchildren," he said. "It feels like I'm saving something people care about."
Through philanthropy, Alex hopes to show his gratitude to UMD and the Mechanical Engineering Department in particular. "UMD brought me to this great country and gave me a platform and an opportunity," Alex says. He established a Fellowship that will offset the cost of education for graduate students studying design decision-making, data-driven systems, systems optimization, and systems engineering. He also provided critical operating support for the Design Decision Support laboratory, where Alex spent most of his time as a student alongside his mentor Dr. Shapour Azarm.
"UMD brought me to this great country and gave me a platform and an opportunity."
Read more about Alex's entrepreneurial ventures and gift to UMD in these articles:
Mehr Gift Establishes Two Funds at UMD
ME Alumnus Acquires Pier 1 Imports
Published November 15, 2020