Mechanical Engineering Graduate Student Volunteers during STEM Events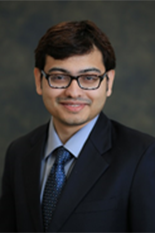 Department of Mechanical Engineering Ph.D. Student Shayandev Sinha volunteered last month at the 2016 E-Week's Discover Engineering Family Day and the DC Stem Fair. He represented the American Society of Mechanical Engineers (ASME) District of Columbia section in helping showcase the many aspects of engineering to the public. The annual hands-on engineering and science festival was held February 27, 2016 in the National Building Museum in Washington DC.
This year, the DC section of ASME presented the exhibit Waves. Sinha, among other student and professional volunteers, assisted in demonstrating and explaining different wave phenomena under various circumstances. Guests participated in activities designed to help teach about wave propagation, frequency, amplitude and resonance. Nearly 8000 visitors stopped by the ASME booth to learn about the science of waves.
Sinha was recently named to the ASME International Petroleum Technology Institute (IPTI) Collegiate Council as a 2015-2016 member. Under the direction of Siddhartha Das, his research explores the challenges of bio-adhesion on soft charged systems in an underwater scenario, and his proposed first scale model for these processes was published in the Journal of Applied Physics.
The DC STEM Fair is the premier student competition in the District of Columbia. The secondary fair is open to 6th-12th grade public, public charter, and parochial, private and home school students. This event brings together students from all eight wards to create, problem-solve and innovate. It is organized by the DC Stem Network which is an initiative of the Carnegie Institute of Science. Shayandev served as a Special Award judge representing ASME throughout. He was also the mentor of School without Walls high school student Sam Lossef's project on "Use of Pyrolytic Graphite and Phase Change Material Improve Stirling Engine Performance." This project took Second Prize in the DC Stem Fair and was selected to present his project at Intel International Science and Engineering Fair (Intel ISEF), the world's largest international pre-college science competition, held in Phoenix, Arizona from May 8-13.
Founded by the National Society of Professional Engineers in 1951, E-Week is dedicated to ensuring a diverse and well-educated future engineering workforce by increasing understanding of and interest in engineering and technology careers. It is held every February, and has grown to include over 70 engineering, education and cultural societies. Each year, it reaches thousands of schools, businesses and community groups across the United States. The theme this year was "Engineers Make a World of Difference" to celebrate the positive change engineers enact through their work and research.
Pictures (from top to bottom): DC Stem Network, Lossef's project, ASME E-Week Event
Published April 27, 2016