Mechanical Engineering Students "Just Go Away" with ENES 472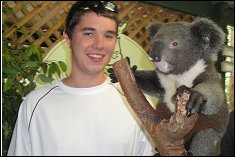 "...the trip was a totally unique experience."
For the third year in a row, undergraduates enrolled in ENES472: International Business Cultures and Engineering and Technology went abroad to Sydney, Australia. The students were accompanied and taught by Michel Cukier, associate professor of reliability engineering, and Paige Smith, director of the Women-In-Engineering (WIE) department. The course spanned a total of 21 days over the Winter term, including travel time.
Of the 22 students registered for the class, 19 were engineering majors and 3 were business majors. John Stanley, a mechanical engineering junior, was one of the students on the trip. According to Stanley, "It was one of the best experiences of my life."
Over the three weeks, students spent 2-3 hours a day in the classroom learning about Australian culture and technology, such as information about the mechanics of the Sydney Harbour Bridge; Australian history; indigenous history; voltaic research; and marketing in Australia. In addition to the class time, students explored Sydney on multiple educational tours and were also encouraged to independently sightsee around the city in small groups.
Both Smith and Cukier believe that the study abroad experience is very important in a student's development process. "When students are abroad they mature quickly. I have noticed students gain independence and a lot more confidence," reveals Smith. From a student's perspective, Stanley believes that his experience, "Helped me to see the cultural differences between Americans and Australians, and will help me in the future to understand how cultural practices and the personality of a people [are] prevalent in all walks of their society, from the business world to the pub."
When asked if he would recommend the trip to fellow ME's, Stanley was effusive, "I would definitely recommend this trip; it is a great experience to see how even an English speaking culture can differ greatly from ours. Plus, the trip was a totally unique experience."
Students interested in taking this course should contact Caine Francis, coordinator for International Engineering Programs, at cfranci4@umd.edu, or visit the Winter Study Abroad homepage.
Published March 3, 2010