Miao Yu Promoted to Associate Professor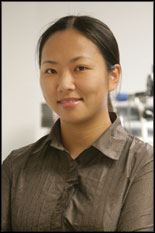 University of Maryland President Wallace D. Loh recently announced the promotion of
Miao Yu
to the position of Associate Professor with tenure, effective August 23, 2011.
Yu earned her B.S. and M.S. in Engineering Mechanics from Tsinghua University, Beijing, China, and later earned her doctorate in Mechanical Engineering from the University of Maryland. As a vital member of ME's faculty since 2005, Yu's research area spans micro-scale and nano-scale sensors, optical systems, biology-inspired systems, and sensor mechanics and material behavior at multiple spatial scales.
An accomplished educator and researcher, Yu has received numerous awards and honors for her faculty and research activities, including the Faculty Early Career Development (CAREER) Award from National Science Foundation (2007); Young Investigator Research Program (YIP) Award from the Air Force Office of Scientific Research (2007); The Ralph E. Powe Junior Faculty Enhancement Award (2006); and Invention of the Year Award in the Physical Sciences Category from the University of Maryland (2002). Yu also holds eight University of Maryland Invention Disclosures, three U.S. patents, and two pending U.S. patents in the area of optical systems and bio-inspired sensors.
Beyond her research and education responsibilities, Yu is also active in many professional societies. She retains sitting positions on a number of technical committees associated with SPIE and ASME, including ASME Technical Committee on Dynamics and Control of Structures and Systems, Program Committee of the SPIE Conference on Modeling, Signal Processing, and Control, Program Committee of the SPIE conference on Sensors for Harsh Environments, and Program Committee SPIE Photonics Asia Conference on /Advanced Materials and Devices for Sensing and Imaging.
For more information on Professor Yu's research, please visit her faculty page.
Published May 17, 2011