Peter Sunderland Receives NSF CAREER Award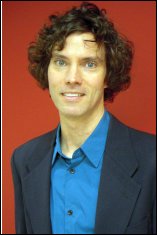 Recently, Peter Sunderland, ME affiliate professor and FPE assistant professor, has been notified that he has won a National Science Foundation (NSF) Faculty Early Career Development (CAREER) Award for his research titled, "Soot Oxidation in Hydrocarbon-Free Flames." The five-year award began March 15, 2010 and is worth approximately $400,000.
The Faculty Early Career Development (CAREER) Program one of NSF's most prestigious awards for new faculty members. The CAREER program recognizes and supports the early career-development activities of those teacher-scholars who are most likely to become the academic leaders of the 21st century. CAREER awardees are selected on the basis of creative, career-development plans that effectively integrate research and education within the context of the mission of their institution.
On winning this award, Sunderland says that his appointment as an affiliate assistant professor of mechanical engineering has been "invaluable in [his] proposal," as the NSF CAREER award also requires research conducted by graduate students. Currently, the Department of Fire Protection Engineering does not have a Ph.D. program, consequently all of Sunderland's Ph.D. research was conducted by ME students.
The focus of Sunderland's research involves experiments where a smoke stream, produced by a very sooty flame, flows upward into a very clean flame. The rates of soot oxidation (i.e., destruction) in the clean flame are measured and then correlated with local conditions. Since soot is a very harmful pollutant that is emitted from flames, Sunderland hopes that his research will, "improve the understanding of soot chemistry [by obtaining] more accurate equations that relate the rates of soot oxidation in flames to parameters such as temperature, gas composition, and size of the soot particles. This will lead to improved computer models used for fire safety and engine design."
Sunderland received his Ph.D. in Aerospace Engineering from the University of Michigan, Ann Arbor. In addition, Sunderland has won several awards and is a member of many professional societies including, the American Institute of Aeronautics and Astronautics (AIAA); the American Society for Engineering Education (ASEE); the Combustion Institute; the International Association of Fire Safety Science (IAFSS); and the American Society of Mechanical Engineers (ASME). He has also contributed to numerous publications, which focus on his areas of expertise and research.
For more information on Professor Sunderland and his research, please visit his website.
Published April 5, 2010