Modarres Awarded Nicole Y. Kim Eminent Professorship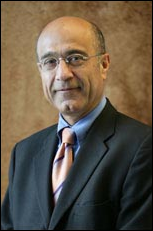 The Department of Mechanical Engineering awarded Professor Mohammad Modarres the Nicole Y. Kim Eminent Professorship. The committee received several honorable applications for the professorship, and after careful deliberation chose Modarres. Department Chair Balakumar Balachandran accepted the committee's recommendation, and Dean Darryll J. Pines endorsed the selection. Modarres will relinquish his Minta Martin Professorship to become the next Nicole Y. Kim Eminent Professor.
Modarres currently serves as director for both the Center for Risk and Reliability Department of Mechanical Engineering and the Nuclear Engineering Program. Modarres received his B.S. degree in mechanical engineering from Tehran Polytechnic, Iran and received both his M.S. degree in mechanical engineering and Ph.D. in nuclear engineering from the Massachusetts Institute of Technology.
Modarres has served as a consultant to several governmental agencies, private organizations and national laboratories in areas related to probabilistic risk assessment, especially applications to complex systems and processes such as the nuclear power plants. He has over 200 papers in archival journals and proceedings of conferences and three books in various areas of risk and reliability engineering.
The Nicole Y. Kim Eminent Professorship was established by alumnus Dr. Jeong H. Kim (Ph.D., '91, Reliability Engineering).
For more information on Professor Mohammad Modarres, please visit his faculty webpage.
Published December 11, 2014