Dasgupta Awarded Jeong H. Kim Professorship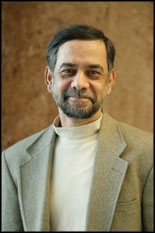 The Department of Mechanical Engineering awarded Professor Abhijit Dasgupta the Jeong H. Kim Professorship. The committee reviewed five candidates, and after careful deliberation, chose Dasgupta, who will be the department's first Jeong H. Kim Professor. Department Chair Balakumar Balachandran accepted the committee's recommendation, and Dean Darryll J. Pines endorsed the selection.
Dasgupta received his B.S. in 1976 from the Indian Institute of Technology and his M.S. in 1981 from Villanova University, both in mechanical engineering. He received his Ph.D. in 1989 from the University of Illinois in theoretical and applied mechanics. Dasgupta conducts his research on the mechanics of engineered, heterogeneous, active materials, with special emphasis on the micromechanics of constitutive and damage behavior, and he applies his expertise to several multifunctional material systems.
He has published over 150 journal articles and conference papers, presented over 20 short workshops nationally and internationally, served on the editorial boards of three different international journals, organized several national and international conferences and received six awards for his contributions in materials engineering research and education.
The Jeong H. Kim Professorship was established by alumnus Dr. Jeong H. Kim (Ph.D., '91, Reliability Engineering).
For more information on Professor Abhijit Dasgupta, please visit his faculty webpage.
Published December 11, 2014