Modarres Participates in Panel of Experts Debating Nuclear Safety at Public Forum in Calvert County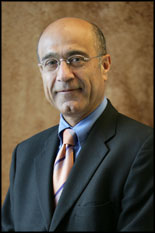 Following the nuclear disaster at the Fukushima Daiichi Nuclear Power Plant in Japan, the level of concern with respect to the safety of Calvert Cliffs Nuclear Power Plant in Lusby, MD has been raised. On Thursday, October 6, the Calvert and St. Mary's chapters of the League of Women Voters (LWV) sponsored the public forum "Nuclear Safety at Calvert Cliffs: Review of Issues Arising from the Japanese Accident." Panelists included Erin Alexander, the American Nuclear Society's 2011 Glenn T. Seaborg Congressional Fellow; Mohammed Modarres, professor of Nuclear Engineering and director of Reliability Engineering at the University of Maryland; Thomas Cochran, a consultant with the Natural Resources Defense Council; nuclear watchdog Paul Gunter, director of Reactor Oversight at Beyond Nuclear; Charles Martin, former chairman of the Nuclear Installations Safety Division, American Nuclear Society; Maria Korsnick, chief nuclear officer and chief operating officer of Constellation Energy Nuclear Group (Calvert Cliffs' owner); and George Vanderheyden, president and CEO of UniStar Nuclear Energy LLC, the company proposing to build Calvert Cliffs Unit 3 in Lusby.
Some had expressed concerns regarding the possibility of a similar disaster happening at Calvert Cliffs. The evening began with an overview of the disaster at the Fukushima Daiichi Nuclear Power Plant, focusing on the impact of the earthquake and the subsequent tsunami that overwhelmed the plant. The failures of the plant's back-up systems led to failures with the cooling of spent fuel, damaging the cores of each of the plant's 11 reactors. The area is still extremely radioactive, which has prompted concern. Professor Modarres commented that the situation that happened at the plant must be "intensely analyzed," which should result in a better outcome for the nuclear industry.
Mohammad Modarres is a professor in the reliability engineering program in the Department of Mechanical Engineering at the University of Maryland's A. James Clark School of Engineering. For more information on Professor Modarres, please visit his faculty faculty page.
The Department of Mechanical Engineering is sponsoring a lecture entitled "Japan's Fukushima Accident: Insights and Global Follow-Up Measures," Friday, October 28, 2011, at 2:00 p.m. in the DeWALT Seminar Room, 2164 Glenn L. Martin Hall. Inn S. Kim, Ph.D. ('88, nuclear engineering), president, International System Safety Analysis Technology, Inc. will discuss the strategic follow-up measures being taken in the aftermath of the Fukushima accident. For more information about Dr. Kim's lecture, please visit the Department's Seminar Series website.
Published October 14, 2011