Yu Collaborates With U.S. Army Research Lab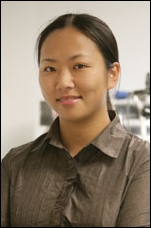 ME professor Miao Yu has recently completed a project through a large-scale collaboration between the University of Maryland and the U.S. Army Research Laboratory (ARL). As part of this partnership, Professor Yu and a group of four students developed an Ultra-Miniature Fiber-Optic Microphone Array System. The partnership also involved the UMD School of Public Policy's Center for Public Policy and Private Enterprise; the Maryland Technology Enterprise Institute Program; Brian Darmody, UMD Special Assistant Vice Chancellor for Technology and Development; and Steve Tenney of the ARL Acoustic and EM Sensing Branch.
According to the team, their objective was to "develop [an] ultra-miniaturized fiber optic microphone array system, including a miniature microphone array and a smart sensor interrogation subsystem." The system features a miniature microphone array and a smart sensor interrogation system that deliver performance comparable to high-end microphone systems, but with fewer materials and fabrication costs. The ARL highlights the system's variety of uses in a wide range of fields, noting that "the microphone system can be used commercially in terms of electronic, medical, law enforcement and security and industrial devices such as cell phones, computers, hearing aids, magnetic resonance images (MRIs), and acoustic area monitoring systems." The array system is also particularly beneficial to soldiers in the U.S. Army, as it will allow them to "lighten their load with smaller and lighter battlefield communication devices." The ARL has also revealed that "a business plan [for the project] is set to be started this fall" and that several companies have displayed interest in the project.
The original article can be found here. Miao Yu (UMD Ph.D., '02) is an associate professor of mechanical engineering at the University of Maryland's A. James Clark School of Engineering.
For more information on Professor Yu, please visit her faculty page.
Published October 17, 2011