Nuclear Engineering Alumni Presents as Part of Mpact Lecture Series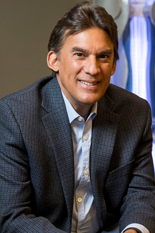 Dr. José N. Reyes, Jr., P.E. (nuclear engineering, M.S. '84, Ph.D. '86), Co-Founder and Chief Technology Officer for NuScale, presented his talk, "An Innovative Energy Solution for a Carbon Constrained World" during this fall's A. James Clark School of Engineering Mpact Lecture Series held on November 19, 2019.
Dr. Reyes discussed the benefits of the NuScale small module reactor to provide clean and resilient energy to lift billions out of energy poverty. One of the biggest challenges of the century is how do we generate the abundance of clean and resilient energy needed to lift nearly 6 billion people out of energy poverty while simultaneously combating climate change?
According to Reyes, NuScale's factory manufactured small nuclear reactor offers a new level of safety and economy. Its multi-module configuration and small footprint enables the repurposing of large coal-fired plants near population centers or small grid operations in remote areas. Its flexible power operations complements variable power output systems such as wind and solar and opens the door to new applications for nuclear power. The NuScale SMR is to receive its Final Safety Evaluation Report from the U.S. Nuclear Regulatory Commission in September 2020 with first commercial operation in 2026 at the Idaho National Laboratory.
You can watch the full Mpact Lecture here: go.umd.edu/mpact-lecture-fall2019
Dr. Reyes is a co-inventor of the NuScale small modular reactor and has over 110 patents granted or pending in 20 countries. Dr. Reyes is an expert on nuclear plant scaling, passive safety, and testing. At Oregon State University, Dr. Reyes served as head of the Department of Nuclear Engineering and is now a Professor Emeritus. He was the OSU principal investigator for the Westinghouse AP600 and AP1000 design certification test programs. Dr. Reyes is an ANS Fellow and Member of the National Academy of Engineering.
About the Mpact Lecture Series: The Mpact Lecture Series brings prestigious thought leaders from across the country to discuss key issues in engineering: those that fall under the National Academy of Engineering's 14 Grand Challenges for Engineering. The series incorporates interactive technology and vibrant thought leadership content that resonates long after the event is complete.
Published November 20, 2019