Hahn and Co-Authors Receive 2019 IEEE Engineering in Medicine and Biology Paper Award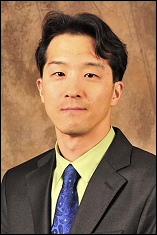 Department of Mechanical Engineering Associate Professor Jin-Oh Hahn along with co-author Dr. Ramakrishna Mukkamala of Michigan State University were awarded the third place prize in the 2019 Institute of Electrical and Electronics Engineers (IEEE) Engineering in Medicine and Biology Prize Paper Awards.
Their paper, "Toward Ubiquitous Blood Pressure Monitoring via Pulse Transit Time: Theory and Practice," has been cited 338 times since its publication in 2015.
The team's paper explored the use of pulse transit time as a future viable and reliable means to monitoring heart health and blood pressure.
IEEE Engineering in Medicine & Biology Society is the world's largest, international biomedical society and the awards recognize outstanding contributions to the field of research and their impact.
Published December 5, 2019