PI Holds 1st Annual Research Workshop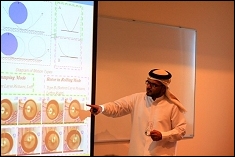 On January 6-7, the
Petroleum Institute (PI)
and its partner universities held the
1st Annual Research Workshop
[30MB pdf] in Abu Dhabi, United Arab Emirates. The event followed the format used successfully in the two earlier
Energy Education and Research Collaboration (EERC)
workshops, held in 2009 by the
University of Maryland (UMD)
and PI.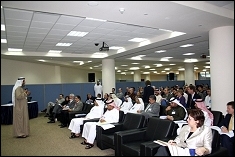 This year's event attracted more than 100 participants from the oil and gas industry, PI partner universities – UMD, Colorado School of Mines (CSM), and University of Minnesota (UMN) - and PI faculty and students. The two-day program was coordinated by Ebrahim Al Hajri, a recent Ph.D. graduate from UMD and new faculty member at PI, and included introductory comments by Michael Ohadi, Provost and the Acting President of the PI; Abdul Munim Saif Al Kindy, General Manager of ADCO; Avram Bar-Cohen, Chair and Distinguished University Professor of Mechanical Engineering at UMD; Nigel Middleton, Senior Vice President, Strategic Enterprises at CSM; and Jeff Derby, Executive Officer at UMN. The workshop included more than 28 technical presentations on the collaborative research between PI and partner universities.
EERC research was well received by workshop attendees and in particular, the Abu Dhabi National Oil Company (ADNOC) representatives, who showed much interest in many of the UMD projects. The presence of the other partner universities at this workshop provided a broader view of PI's research interests and allowed the EERC faculty to lay the foundation for future cooperation and greater synergy with the CSM and UMN collaborative research programs.
The workshop also brought active participation of many technical staff and executives from the ADNOC operating companies (OpCos), namely Abdul Munim Saif Al Kindy, General Manager of ADCO and Abdulla S. Minhali, Senior Vice President–technical of GASCO; representatives from ADGAS, NDC, TAKREER, BOROUGE, ZADCO; and international companies such as Shell, ConocoPhillips, and Total. This was a much anticipated result of EERC's persistent effort over the past year to establish a bridge between PI and OpCos through more than 10 visits by PI and UMD faculty to the various operating companies which had previously expressed interest the EERC projects.
The last session of the workshop was dedicated to an open discussion on future PI R&D directions with various PI partner schools. Chair of the session was Karl Bertussen, Director of Research at PI, who presented an overview of plans for a new building to house the PI Research Center. Other topics discussed were the recruiting of graduate students and professors, and the areas of future research to be conducted in the proposed building.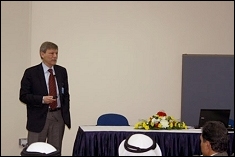 Along with Bar-Cohen, the UMD delegation included EERC Research Manager, Azar Nazeri and ME faculty Shapour Azarm, Satyandra (S.K.) Gupta, Yunho Hwang, Greg Jackson and Mohammad Modarres. As in previous years, the UMD delegation also attended the PI Commencement ceremony, held on Saturday January 9th.
UMD faculty also used the occasion to meet with their PI collaborators, PI management, and industry executives. Modarres and Nazeri met with Clarence Rodrigues, Director of Health, Safety and Environment (HSE), to discuss developing an HSE graduate program at PI. Nazeri also met with Nadia M. Alhasani, Director of Arzanah, the PI's women's college, in order to discuss closer collaboration between the two institutes. The two also discussed arranging summer internships/visits to UMD by high performing junior and senior female students. In addition, Nazeri met with Ioannis G. Economou, PI's Associate Provost for Graduate Studies, to discuss the PI/UMD joint graduate program and the delivery of courses to the increasing graduate student population at PI.
Bar-Cohen and Gupta, along with Professor Peter Rodgers of PI, visited with Petri Lehmus and four other engineering managers at the BOROGUE Innovation Center to discuss the Polymer Heat Exchanger project - the topic of a lively discussion after the workshop sessions. Additional meetings were held with Alawi Salem, ADGAS Assistant Engineering Manager, and with M. Shawqy Awad of GASCO.
During the workshop, Azarm was approached by Saad Abdul Hamid, of Abu Dhabi Marine Operating Company (ADMA), in order to discuss Reservoir Technology at ADMA.
Overall, the workshop and subsequent events were extremely successful and strengthened the four-year collaboration between UMD and PI. With the planned continuation of the annual workshop, and the growing impact of the EERC research projects, the EERC future looks bright.
Established in 2006, the Energy Education and Research Collaboration (EERC) is a long-term collaboration between the Petroleum Institute (PI) of Abu Dhabi, UAE and the University of Maryland. Its mission is to assist the PI enhancing undergraduate, graduate studies/research, and continuing education in energy systems engineering for the citizens of the United Arab Emirates.
Published February 17, 2010