Poppler James Named Chair Elect for ASEE's Continuing Professional Development Division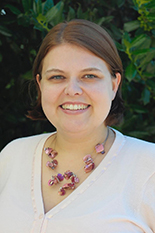 Department of Mechanical Engineering Director of Academic and Student Affairs Kerri Poppler James was unanimously elected to a leadership role on the American Society of Engineering Education's (ASEE) Continuing Professional Development Division (CPDD).
CPDD's mission is to foster the development, delivery, and improvement of continuing education in all areas pertaining to engineering and allied branches of science and technology; provide advocacy for and leadership in lifelong learning; and to create opportunities for exchange of information and expertise among providers and consumers of educational programs. Members of the CPDD division are professionals from a variety of training and management situations.
Poppler James served three years as the CPDD secretary before entering her current leadership rotation, which will include two years as chair-elect and two years as past chair. She is the second Clark School staff member to hold this position. Director of Instructional Technologies for Engineering Information Technology Marty Ronning held the same position starting in 2014, and is currently completing his rotation as past chair.
Poppler James has been working with engineering graduate students for over a decade in the A. James Clark School of Engineering. In various roles within the college, she has worked on everything from payroll and budgeting to student services and faculty affairs. In her current role, she oversees both the undergraduate and graduate programs in Mechanical Engineering, managing academic requirements, recruitment, advising, and degree completion for approximately 1500 students. She also serves as one of the advisors for the University of Maryland's Master of Engineering programs in Mechanical Engineering and Sustainable Energy Engineering. She received her M.A. degree in Public Administration from Hamline University in 2005.
Published March 11, 2020