Giving Spotlight: A Commitment to the American Dream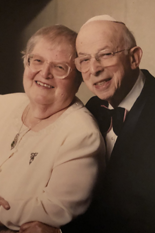 Ruth and Sam Salzberg were always grateful for the opportunities that were afforded to them in life. They continuously worked hard for themselves, their family, and the community around them. More than anything, the Salzbergs believed in the future of education, and they established the Ruth and Sam Salzberg Family Foundation in part to assist hard-working mechanical engineering students at the University of Maryland (UMD). The Foundation still stands today because of Sam and Ruth's generous efforts to help these deserving students.
Sam's parents, Hyman Salzberg and Rebecca Rosa Helsinger, were Polish immigrants who met on a ship coming to America in the early 1900's. They settled in New York State where, in the land of opportunity, they worked hard to provide for themselves and their growing family. Hyman worked odd jobs to make money, such as selling eggs and delivering laundry. At one point, he even harvested honey and sold it on the roadside in the Catskill Mountains.
Sam and Ruth married in June of 1941. He served in the Army during World War II, and upon his return, attended City College for two years to study mechanical engineering. His tuition was paid by his sisters, who took jobs to put their brother through school. Sam and Ruth then traveled to Washington, D.C. to find work. Sam was hired at Al Bornstein Engineering, and Ruth stayed home to raise their three children. At Bornstein, Sam met Alvin (Al) Tasker. Al dreamed of starting his own mechanical contracting firm and invited Sam to join. The two men worked exceedingly well together despite different backgrounds, Sam a New York Orthodox Jew and Al a Virginian Southern Baptist. Al ran the construction work while Sam was the Chief Design Engineer. Sam and Al shared a great friendship, and when Al passed away, Sam continued running the business, calling it A. Tasker, Inc. doing business as Salco Mechanical Contractors.
Salco was the first construction firm in the area to offer profit-sharing retirement plans to its workers. In the early days of Salco, times were tough, as Sam worked to build a client base and garner others' trust in his work. He found reliable help from the mechanical engineering students at UMD, who were eager to apply their theoretical knowledge to practical problems. In busy times, Sam hired these students to work for the company, which sometimes led to full-time employment.
As Salco became more profitable, Sam and Ruth started to think more about how their success was rooted in the vision and hope that their parents had years before. The Salzbergs would always be grateful for the selfless dedication of others and the opportunities presented to them in this country. They continued to lead a modest life. They sent all three of their children to college, but they also wanted to give back to the society that had given so much to them. They established the Ruth and Sam Salzberg Family Foundation to do just that.
The Salzberg Family Foundation supports programs and causes that ultimately improve our society. Sam and Ruth intended for their financial resources to be used to help others for years after they had passed away. They had a special fondness for UMD and the mechanical engineering students that they had help foster, and they knew firsthand the value of a college education. Initially, Sam and Ruth wanted to use the Foundation as a vehicle to give every mechanical engineering student five dollars and health insurance. This was a tall order, but it shows the tremendous depth of their generosity.
Sam passed away in 2005 and Ruth in 2008. Today, the Foundation is managed by their children: Ellen (M.A., Rehabilitation Counseling, '01), Arthur, and Michael. The family established the Ruth and Sam Salzberg Family Endowment at UMD in 2006 to fulfill their parents' dream of supporting mechanical engineering students. It now provides annual scholarships to undergraduates who have a love for learning, a commitment to society, and an appreciation for hard work. In 2019-2020, the scholarship recipients were Cristian Castro (senior), Nikita Dobkin (senior), Alexander Fowler (junior), Jenna Holt (sophomore), Chidumebi Offor (senior), and Bright Ofosu, Jr. (senior).
Ellen, Arthur, and Michael continue to instill the importance of giving back within their own families. Three generations after emigrating from a house with dirt floors, Ellen's three daughters are all doctors. Arthur's children are starting careers in business and law, and Michael's children are in real estate development and education. Just like Ruth and Sam Salzberg, this growing family continues to leave their own impact on America.
The Salzberg family fundamentally believes that this country is a melting pot of cultures and ideas. They have seen it as a place where freedom of thought and freedom to work hard is available to all who value it. For them, giving back is an important way to foster the best in society and create opportunities for the next generations.
Published March 10, 2020