Professor Linda Schmidt is Teaching the Next Generation of Engineers the Foundations of Engineering Design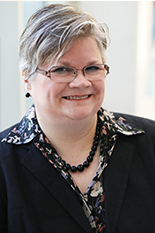 Generations of women have contributed to engineering, and Clark School women are proud to be part of that tradition. In honor of women's history month, the Clark School is celebrating one female engineering faculty member each day. Read about today's featured faculty member, Linda Schmidt.
Mechanical Engineering Professor Linda Schmidt is the director of the Mechanical Engineering Design Lab (DesignME) here at UMD and researches design theory, education and process. During her time at Maryland, she has taught multiple courses in system and product design theory and methodology, and has been an integral part of the department's capstone design curriculum.
"She's a great teacher, [and] she inspires enthusiasm and gets good responses from her students."
In 2014, she was one of 77 educators invited to participate in the National Academy of Engineering's sixth Frontiers of Engineering Education (FOEE) Symposium, an event that brings together some of the nation's most innovative educators. Schmidt is regularly recognized for her outstanding teaching, particularly in the area of engineering design, and in 2015, she was named an American Society of Mechanical Engineers (ASME) Fellow for her influential role in this field.
The Clark School has recognized her efforts with an Engineering Faculty Service Award, and in 2016, she was named an Undergraduate Studies Faculty Fellow. This UMD program brings together a small, interdisciplinary group of educations to discover new ways to improve undergraduate education.
Published March 16, 2017