Qian and Huang Awarded with Scholarship, Fellowship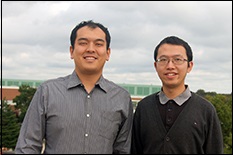 Two Center for Environmental Energy Engineering graduate students have been honored this fall for their outstanding scholastic achievements in the field of energy engineering. Long Huang received a scholarship from the Baltimore Chapter of the Association of Energy Engineers, and Suxin Qian was awarded with a GDF-SUEZ Chuck Edwards Memorial Fellowship.
Qian was awarded one of two annual GDF-SUEZ Chuck Edwards Memorial Fellowships given to outstanding University of Maryland graduate students whose research is in the area of energy conversion systems and related technology. Qian's fellowship, provided in memory of long-time GDF-Suez/University of Maryland employee Chuck Edwards, was awarded based upon his work Performance Comparison of the Alternative Solid-State Cooling Technologies to the Vapor Compression Cooling.
Huang received a scholarship from the AEE Baltimore Chapter. The scholarship was awarded in memory of the chapter founder, Gary Snead, and is given to Maryland engineering students with superior academic standing and character.
Published October 9, 2014