Sandborn Publishes Second Edition of Cost Analysis of Electronic Systems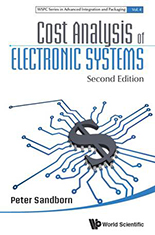 Department of Mechanical Engineering Professor Peter Sandborn recently published the second edition of his book Cost Analysis of Electronic Systems. The first edition was released in 2013. According to the publisher's description, this book "provides an introduction to the cost modeling for electronic systems that is suitable for those involved with electronics technology development and management," and is intended for use by advanced undergraduates, graduate students and engineering professionals.
Sandborn said the new edition includes two new chapters and appendices from the first, along with several new problems and sections. One new chapter focuses on real option analysis that treats modeling of management flexibility and provides a case study on maintenance optimization, while the second involves cost-benefit analysis.
Sandborn currently serves as the Director of the Maryland Technology Enterprise Institute (MTech), and teaches within the A. James Clark School of Engineering Keystone Program. He is a fellow of the Institute of Electrical and Electronics Engineers (IEEE) and the American Society of Mechanical Engineers (ASME).
Cost Analysis of Electronic Systems is published through World Scientific Publishing and was released in December 2016 in electronic format. The hard copy will be available February 2017.
Published January 19, 2017