Six Mechanical Engineering Students Selected for 2013 Future Faculty Program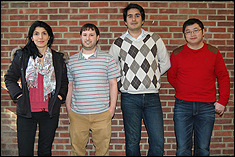 Six mechanical engineering doctoral students have been selected as 2013 Future Faculty Leaders, the largest cohort in a single department in the Clark School this year.

The program was created in 2007 to increase the number of teachers the Clark School produces by providing students with guidance and support for success in academia. Students enroll in three different one-credit seminars that teach them the skills necessary to obtain a faculty, techniques to engage students, and how to conduct research as a professor.

Students also obtain hands-on experience by co-teaching a course under the supervision of their faculty advisor. Associate Dean Peter Kofinas, who oversees the program, said that the students gain more from this teaching experience than they would as a teaching assistant.

"You don't get the same type of feedback from an instructor as you get in this program," Kofinas said.
The students also mentor a less experienced graduate student or undergraduate student with a research project.

All Future Faculty Fellows will receive $3,000 for travel expenses to present their own research at conferences to not only network with participants, but to become more confident in presenting research at a professional level.
The 2013 awardees and their advisors are:
* Zohreh Ghorbani , advisor Arnaud Trouve
* Raphael Mandel, advisor Michael Ohadi
* Amir Kashani Pour, advisor Peter Sandborn
* Ryan Rudy, advisor Don DeVoe
* Zhu Shuze, advisor Teng Li
* Zhijian Zhang, advisor Miao Yu
For more information about the program, including how to apply, visit the Future Faculty Program website.
Published February 22, 2013