Scientific Reports Invites Yang to Serve as Editorial Board Member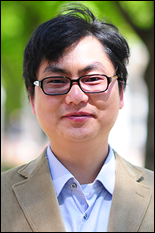 Department of Mechanical Engineering Associate Professor Bao Yang has been invited to serve as an Editorial Board Member for Scientific Reports, a journal from Nature Publishing Group, the publishers of Nature.
Scientific Reports launched in 2011 as a multidisciplinary, online-only, open access publication covering all areas of the natural sciences. The Scientific Reports Editorial Board—composed of practicing scientists across numerous fields—manages the peer review process, and takes final decisions on whether papers should be accepted. The board includes experts from all major fields within the clinical, biological, chemical, physical and earth sciences, to ensure representation across the scope of the journal. Yang will serve as an Editorial Board Member in the area of Condensed Matter Physics.
In addition to the Department of Mechanical Engineering, Yang is affiliated with both the University of Maryland Energy Research Center and the Maryland NanoCenter. His research interests include micro/nanoscale thermal transport and energy conservation, thermal science and its applications and nanotechnology with focuses on two main areas: development of advanced thermoelectric materials and development of hybrid thermoelectric systems.
Bao is currently a co-investigator on an Advanced Research Projects Agency-Energy (ARPA-E) funded project to develop a thermally-responsive fabric that extends the skin's thermoregulation ability to maintain comfort in hotter or cooler office settings.
Yang received his Ph.D. in Mechanical Engineering from the University of California, Los Angeles and a Ph.D. in Physics from the University of Science and Technology of China in 1998. He is a member of the American Society of Mechanical Engineers, the Materials Research Society, the American Physical Society and the International Thermoelectrics Society.
For more information on Bao Yang and Scientific Reports, please visit their websites.
Published April 17, 2015