Yang Promoted to Professor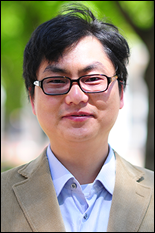 Department of Mechanical Engineering Associate Professor Bao Yang has been awarded the rank of Professor by University of Maryland (UMD) President Dr. Wallace Loh.
He joined the department in 2003, following time as a Visiting Research Assistant at the Massachusetts Institute of Technology (MIT). He holds two doctorate degrees: a Ph.D. in Physics from the University of Science and Technology in China and a Ph.D. in Mechanical Engineering from the University of California, Los Angeles (UCLA). His research focuses on micro/nanoscale thermal transport and energy conversion, and thermal science and its applications in electrical engineering, optical engineering and material science.
Yang serves as the faculty mentor for UMD's Defense Advanced Research Projects Agency (DARPA) Field-Reversible Thermal Connector (RevCon) team, which took top honors at last fall's competition.
Last year, he led a team in winning a U.S. Energy Department Advanced Research Projects Agency-Energy (ARPA-E) grant to support their project "Novel Microemulsion Absorption Systems for Supplemental Power Plant Cooling." This was the second ARPA-E funded project Yang was awarded.
Yang co-authored Thermoelectric Microcoolers and has published over 50 articles in refereed journals. He currently serves as an Editorial Board member of Scientific Reports published by Nature.
He is a member of the American Society of Mechanical Engineers (ASME), Materials Research Society (MRS), American Institute of Aeronautics and Astronautics (AIAA), American Physical Society (APS) and the American Society for Engineering Education (ASEE).
In 2004, he received the "Ralph E. Powe Junior Faculty Enhancement Award" from the Oak Ridge Associated Universities, and in 2014, he won the UMD Center for Minorities in Science and Engineering Appreciation Award.
"Bao's accomplishments have already had a noticeable impact on the development of nanomaterials for thermal management systems and thermoelectric systems for electronic cooling applications" said Department Chair and Minta Martin Professor Balakumar Balachandran. "His creativity and innovation have helped him transition fundamental research findings to a range of real-world applications."
Yang's new faculty position will be effective starting July 1, 2016.
Published May 25, 2016