Terps Racing Students Visit Indy 500 Time Trial Practice Sessions
In May, Terps Racing students were invited to the Indy 500 Time Trials Four students, including Ben Strobel from the Department of Mechanical Engineering and Michael Dipalo, Konrad Anderson and Sean Stanley from the Department of Electrical & Computer Engineering, made the trip to Indianapolis, Ind. to gain valuable knowledge about IndyCar racing and watch the time trial practice sessions.
The students were hosted by Schmidt Peterson Motorsports for the day. The trip was planned largely by John Barnes, longtime racing enthusiast and former Indy Team Manager, and Mechanical Engineering Adjunct Associate Professor Captain Leonard J. Hamilton. Barnes was introduced to Terps Racing by ECE Advisory Board member, Bill Olsen. After visiting Terps Racing this past spring to talk with the team, Barnes offered team members the opportunity to visit the Indy 500 saying it would give the students a chance to look at different racing approaches.
Terps Racing team members received both pit and garage access during their time there. They were plugged into the team radio of James Hinchcliffe, who drives the #5 car for Schmidt Peterson. In addition, team members were able to talk at length with the crew chief of the #7 car about team management and efficiency in the sport. They went out with the team to watch the "Happy Hour" at the end of the day, where all cars go out onto the track to practice.
"We've always been told how important it is to test a car, and I've believed it. But after this experience, I believe it in a different way. Getting to see everything first hand made me realize what a difference the details make," said Strobel, who is also Chief Machinist for the Formula team.
Terps Racing is one of the most popular student project groups in the Department of Mechanical Engineering, and attracts students from different majors across the University of Maryland. Established in 1982, the organization challenges students to design and build one of two cars, Formula or Baja, for competition.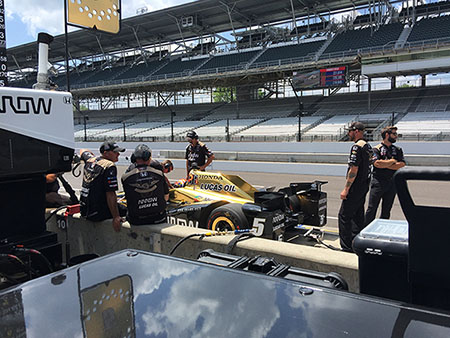 Photo Credit: Benjamin Strobel
Published July 5, 2017