Terry Island Receives the Provost's Academic Advisor of the Year Award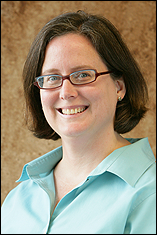 Assistant Director of Undergraduate Studies Terry Island has been selected as the recipient of the 2012-2013 Academic Advisor of the Year Award for her role as a professional advisor to students. The award honors one professional, faculty and graduate student advisor who has achieved excellence in advising undergraduate students.
Island has been an advisor for mechanical engineering undergraduate students since 2007 and was the driving force behind changing the department's advising process to give students more timely and personalized guidance.
"She cares about the students deeply, and takes their success and development personally," said Kenneth Kiger, director of undergraduate studies in the Department of Mechanical Engineering.
After students declare mechanical engineering as their major and enroll in introductory mechanical engineering courses, more options open up for them to participate in engineering-related activities, from student organizations to co-ops and internships. Navigating these options can often be challenging for students, and help from advisors like Island can be vital to their success.
"She has the ability to keep many complex mappings and options open in her mind while talking to students," said Kiger. "She has a talent for presenting these options clearly to students to help them realize what they want to get out of their experience and how to go about doing that."
Island's efforts have achieved results – the department's retention and graduation rates have steadily improved since she started advising for the department. Retention rates have increased from 82 percent to 94 percent, and graduation rates have increased from 57 percent to 72 percent.
"I feel that our program would not be realizing the degree of success it has had without her direct involvement," Kiger said.
Island contributes to tasks beyond advising, such as scheduling classes, coordinating winter and summer term classes and suggesting new courses to faculty that students would find most compelling.
For more information about the department's undergraduate program, visit the department's website.
Published August 19, 2013