UMD Engineering Student Wins 2017 National Boren Scholarship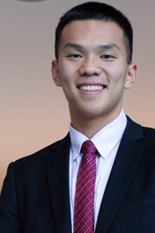 Mechanical Engineering sophomore Hoang Nguyen has been awarded a 2017 National Boren Scholarship Award to study abroad for one year at Yonsei University in Korea.
Nguyen is a Navy ROTC Midshipman and aims to use his time studying abroad to improve his Korean language proficiency while working towards the completion of his mechanical engineering degree. In addition, he is pursuing a minor in International Engineering, which he says is the perfect complement to studying abroad.
"I'm really excited to learn problem-solving from a different cultural perspective and [I] believe that this will be very beneficial to me in my engineering career," explained Nyugen, who plans to commission as a Naval Officer after graduation. "I hope to lead United States sailors in maintaining our military's global presence and commitment to doing good abroad."
Beyond the Boren Scholarship, Nyugen was also a previous recipient of a Critical Language Scholarship, a Gilman Scholarship and a Project Go (Global Officer) award. He is also member of both the QUEST and University Honors Programs.
Nguyen is one of 11 University of Maryland (UMD) students receiving 2017 Boren Scholarship awards. This marks the sixth consecutive year in which UMD undergraduates have led the nation in the number of Boren Scholarships awarded.
Boren Scholarships, an initiative of the National Security Education Program, provide unique funding opportunities for U.S. undergraduate students to study less commonly taught languages in world regions critical to U.S. interests, and underrepresented in study abroad, including Africa, Asia, Central and Eastern Europe, Eurasia, Latin America and the Middle East.
Published April 28, 2017