University of Campinas professor conducts research at UMD's Center for Environmental Energy Engineering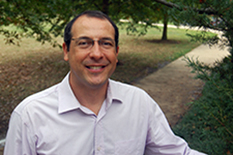 Associate Professor José Vicente Hallak d'Angelo is a visiting researcher with the Center for Environmental Energy Engineering through January, 2016. D'Angelo is a professor in the School of Chemical Engineering from the University of Campinas located in the state of São Paulo in Brazil. He earned his Ph.D. in Chemical Engineering from the college in 1998, and joined the faculty in 2002.
D'Angelo's project at CEEE is 'Dynamic Simulation of Flash Tank with Vapor Injection Refrigeration Cycles' and it is supported by Fundacao de Amparo a Pesquisa do Estado de Sao Paulo (FAPESP). This research will evaluate the performance of new refrigerant mixtures and new refrigerants with low global-warming potential (GWP). This in turn will result in more energy efficient refrigeration cycles that are also better for the environment.
In November d'Angelo will be joined by one of his graduate students, Hugo Valenca de Araujo, who will be here for an internship sponsored by the University of Campinas, through its International Relations Office (VRERI), which provides international study opportunities for their graduate students. His visit at CEEE will further his knowledge of energy engineering systems as well as provide d'Angelo with assistance on his project.
"CEEE is the most famous research center in our subject field," says d'Angelo, when explaining why he wanted to spend his sabbatical here. "CEEE researchers publish many high-quality papers," he says, and notes that he has availed himself to all of them. "I've learned a lot about CEEE software at CEEE", says d'Angelo. He lists XProps, TCM and VapCyc as CEEE software sources that he has made use of for his research while here.
Furthermore, d'Angelo says that he's appreciated the structure of the research review meetings that each faculty holds weekly with consortia students. "I plan on implementing this with my own research group," he says. "I like the dedicated weekly schedule." D'Angelo also lauded the infrastructure at UMD for research, 'The labs and availability of (powerful) computers are amazing, and the libraries are excellent," he says. Furthermore, he says that he appreciates the great knowledge and experience of all the professionals here. "Not only Prof. Radermacher and Dr. Aute, but all the personnel of CEEE, including all the staff. Everyone is very professional, and very nice too! I feel great working here with all of you!"
On October 20 he will present at the seminar, Case Studies for Process Improvement in Pulp and Paper Kraft Mills, for the Department of Chemical and Biomolecular Engineering. The seminar will include case studies on recycling of white water from paper machines; physical-chemical characterization of black liquor samples in evaporators, and reduction of white liquor consumption in the digester.
When he returns to Brazil next year d'Angelo will have some some new administrative responsibilities, and he'll be teaching two thermodynamic courses (one graduate level, the other undergraduate).
He really likes living in DC and commuting by Metro. He explained that in where he lives in Brazil public transit isn't so convenient. "I haven't driven a car since I've been here," he says. He also enjoys exploring the city on long walks. He walks 10-15 miles per weekend seeing the sights, and 'where Washingtonians go', and meeting up with friends for lunch, at the movies, or bars.
During his free time d'Angelo has made many new friends in the area. Surprisingly, many of them are from Brazil. "I didn't realize so many Brazilians live here," he says.
---
Published October 5, 2015