Alum Rick Stamper named Rose-Hulman Interim Dean of Faculty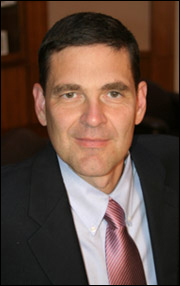 Alumnus
Richard Stamper
has been named to serve as Interim Dean of Faculty at
Rose-Hulman Institute of Technology.
His one-year appointment will begin on July 1.
He has served the past two years as Rose-Hulman's Associate Dean of Professional Experiences, leading its Ventures program, and formerly was head of the Department of Engineering Management. He earned the Rose-Hulman Dean's Outstanding Teacher Award in 2006, the Board of Trustees' Outstanding Scholar Award in 2004 and the Ferdinand P. Beer and E. Russell Johnston Jr. Outstanding New Mechanics Educator Award in 2001 from the American Society for Engineering Education (ASEE).
Recently, Stamper was among nine engineering professors profiled in the Princeton Review's The 300 Best Professors book, recognizing top teachers in more than 60 fields from 122 colleges and universities across the nation.
"As a gifted educator, an outstanding scholar and a trusted colleague, Rick is ideally suited to step into this position. He has a passion for Rose-Hulman and its faculty, staff and students, and he will provide strong leadership for the 2012-13 academic year," stated Phillip Cornwell, Rose-Hulman's Vice President for Academic Affairs.
Stamper earned his Ph.D. in mechanical engineering from the University of Maryland in 1997. Rick's advisor was the late Professor Lung-Wen Tsai (ME/ISR).
| Read the full press release from Rose-Hulman, as carried by Inside Indiana Business |
Published May 30, 2012