Alumni Receives U.S. Air Force Young Investigator Research Program Award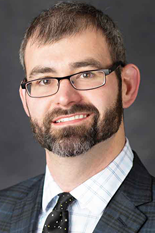 Mechanical engineering alumni Ryan Berke ('08) has been awarded a U.S. Air Force Young Investigator (YIP) Research Program award. Burke is one of only 40 nationawide recipients from across 30 research institutes to receive this award.
According to a story published by Utah State University (USU), Berke will receive $450,000 over three years to support his ongoing research and collaborations with Wright-Patterson Air Force Base in Dayton, Ohio, where Berke spent several summers under the Summer Faculty Fellowship Program.
Berke teaches in USU's Department of Mechanical and Aerospace Engineering where he studies damage in materials under extreme temperature environments.
Under this new award, Berke will develop an innovative way to measure high-cycle engine fatigue by pairing vibration-based testing with camera-based measurements. The specialized cameras give Berke and his team a better view of what happens when materials deform under extreme temperatures. The new test program is estimated to be 400 times faster than conventional testing methods.
The Air Force Young Investigator Research Program (YIP) supports young career scientists and engineers showing exceptional ability and promise for conducting basic research. The program's objective is to foster creative basic research in science and engineering; enhance early career development of outstanding young investigators; and increase opportunities for the young investigator to recognize the Air Force mission and related challenges in science and engineering.
Photo credits: Utah State University
Published December 11, 2019